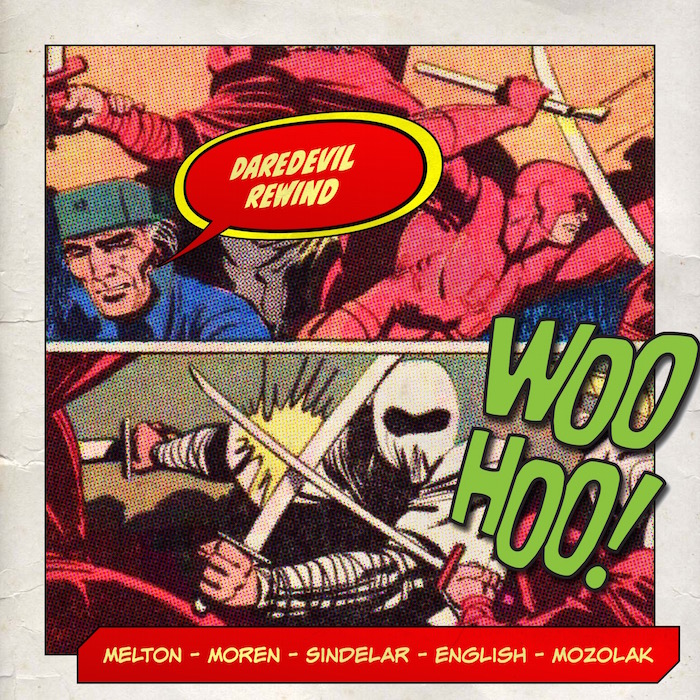 "In this episode we try to encapsulate the meatiest portion of the Daredevil series, "Murdock vs. Nelson", "The Path Of The Righteous" and finally "The Ones We Leave Behind". Two new tenants in Hell's Kitchen have moved in to cover the events." Download
---
The Biggest Show Yet.
In this episode we try to encapsulate the meatiest portion of the Daredevil series, "Murdock vs. Nelson", "The Path Of The Righteous" and finally "The Ones We Leave Behind". Two new tenants in Hell's Kitchen have moved in to cover the events.
---
Episode 10 "Murdock v. Nelson"
After discovering Matt's secret identity, Foggy angrily interrogates Matt about his abilities, morality and all the times Matt deceived him throughout their friendship. Matt tries to defend his actions while slowly recovering from his wounds.
      Meanwhile, Urich visits his ill wife and decides that he's ready to quit the investigation. Karen takes him to a nursing home under false pretences where they meet Fisk's unexpectedly-alive mother, who reveals that Fisk killed his father when he was 12. Earlier in the episode Fisk speaks with Gao, who warns him that Vanessa is a distraction. At the end of the episode he holds a fundraising party for his public philanthropy but Vanessa and several other guests collapse after drinking poisoned champagne.
---
"The Path of the Righteous"
The episode opens with Fisk delivering the poisoned Vanessa to hospital. She's still unconscious after being poisoned at the benefit, and it doesn't look good. Three other men have died after ingesting the same substance. Fisk thanks Wesley for standing by him through all this. Throughout the episode, Karen takes her information about Fisk's past to Foggy, Ben and Matt, and they all tell her it's not enough. Although his injuries are still severe, Matt follows up his observation that the Kingpin was wearing a custom-made protective suit and ends up meeting Melvin Potter. After fighting with Potter they realise that they both want to bring down the Kingpin, and Potter agrees to make him a suit that'll protect him. Meanwhile, Wesley later receives a call from Fisk's mother indicating that Karen and Ben went to meet with her. Not wanting to disturb Fisk, Wesley takes one of Fisk's guards' gun and leaves without telling them. He kidnaps Karen and tries to blackmail her. She manages to take his gun and although he thinks she won't shoot she FULL ON SHOOTS HIM LIKE SIX TIMES IN THE CHEST. WHAT THE HELL. DID NOT SEE THAT COMING. Source
---
"Daredevil Episode 12 , the Ones We Leave Behind"
Fresh from the surprise murder of Wesley, Karen chucks the weapon into the river and tries to get on with her life. Vanessa finally wakes up, just as it becomes clear that Wesley is dead. Foggy and Matt still aren't talking, but Matt meets Ben Urich to try and get a lead on Fisk's money, which leads him to Madame Gao's heroin factory. Foggy asks Marci to look over their Kingpin files, and convinces her to leak them information. Karen convinces Urich to go public with the story they have, but his editor spikes it which leads Ben to accuse him of being in Fisk's pocket. His editor then fires him, obviously. Matt returns to Gao's heroin factory and gets into a fight which starts a fire. She escapes, leaving Murdock to save her blind workers on his own, then meets with Owlsley to tell them the gig is up and she's going back home. Ben speaks to his wife who convinces him to follow his nose on the story. He's about to type it up on an Internet blog when he realises Fisk is in his apartment. The two argue, and then Fisk STRANGLES him. Is anyone NOT going to die in this show!? Source
---
Notes on Editing